There are over 1,000+ brunch spots in NYC, but not all of them have an amazing bottomless deal for a summer get-together with friends.
Here are 4 of the best bottomless brunch deals that we were able to find that give you a great price and an awesome value!
The Horny Ram - Midtown
The Horny Ram is a southern-comfort/food style restaurant located in midtown on second avenue between 50th and 51st.
The ambiance is very lively, with either a DJ or live performer coming in the majority of the days of the week, playing a range of pop to country.
The bottomless brunch offer goes for $27 bottomless for 90 minutes, but there's a catch: you have to purchase an individual entree with your bottomless package. However, the options for entrees are versatile, including a pancake burger, chicken and waffle sandwich, and so much more.
The cocktail list is expansive as well, especially for dinner, with drinks such as the Garden of Heat-en and the #HornyinNewYork.
The HR has seating outdoors, indoors, and on the second floor as well, so it fits groups of all sizes.
Brunch Time: 11am-4pm
Location: 951 2nd Ave, New York, NY 10022
Bottomless Brunch Price: $27 bottomless for 90 minutes
Bottomless drinks: Bloody Marys, Mimosas, Bellinis
Catch: You must also purchase an additional individual food item with brunch
Unique Entree: Pancake Burger ($21)
Ambience: Lively, DJ or live music happen weekly
Essex - Lower East Side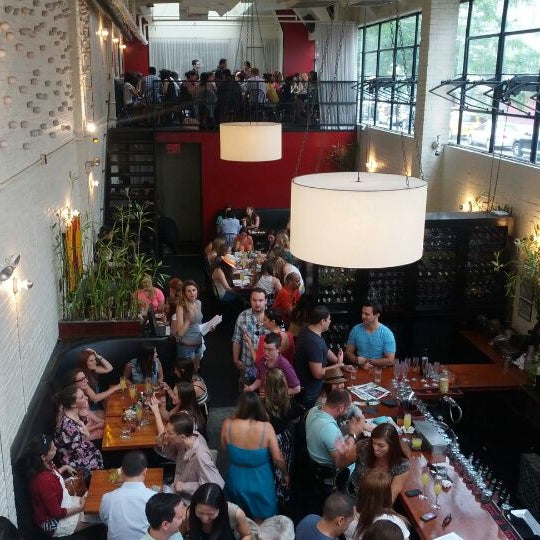 Essex is home to New York City's longest running brunch party.
It has an open, urban set-up on the Lower East Side with multi-level and balcony seating.
Though the restaurant is open all week, the brunches take place Saturdays from 11am-4:30pm, and Sundays from 11am-5pm.
Reservations can hold up to 20 people through OpenTable, and you can make larger reservations through their sign up linked below.
Their $42.95 entrée and drink deal for brunch includes many options and unique drinks from the Mango Lava Lamp to The Pickled Saint.
Dates & Times: Saturday: 11am - 4:30pm, Sunday: 11am - 5pm
Location: 124 Rivington St, New York, NY 10002
Brunch Bottomless Food and Drink Deal: $42.95 deal for both an entrée and unlimited drinks for 90 minutes.
Unique Entrée: Challah French Toast
Other: New spring menu is out which includes SHRIMP 'N' CHEESY BACON GRITS, CHILAQUILES and a concoction called THE SOUTHERN.
Great for large groups - you can reserve up to 20 spots at a table! Essex takes reservations at open table or through their website form.
Visitors and locals come in for all occasions: birthday parties, big announcements, or even a casual Sunday Brunch.
The Flying Cock - Midtown
The FC is an Irish pub and super affordable brunch spot in Midtown with a decent amount of room and outside seating, but it fills up quickly.
Drinks are expensive if you don't get bottomless, and if you do, everyone at the table has to get it so make sure everyone is on the same page!
There are the standard brunch drinks - Bloody Marys, Mimosas, and Bellinis, plus a pretty solid comfort food brunch menu with veggie options if needed.
They have TVs all over so if some of your friends are trying to watch football or another game on Sunday, you're covered.
It's a popular spot, so make reservations early, but it's hard to beat $25 for bottomless brunch drinks and the accessibility of Midtown.
Location: Murray Hill - E33rd and 3rd Ave (close to 33rd St on 6 Train)
Bottomless Brunch Price: $25 (~$13 per drink otherwise)
Bottomless drinks: Bloody Marys, Mimosas, or Raspberry Bellinis
Includes: 90 mins of bottomless, but doesn't include food
Times: 11am-4pm Saturday/Sunday
Catch: Everyone at table must do bottomless
Food: Brunch staples, plus plenty of veggie options and burgers
Unique Entrée: Banana Chocolate Chip Pancake ($16)
Reservations:
For up to 10 guests: (212) 689-6900 or use online system. For 11+ people, email
[email protected]
Other notes: Lots of TVs for sports, Partnered with Amy Fountaine's; @ameszey
Paint N Pour - Harlem & Lower East Side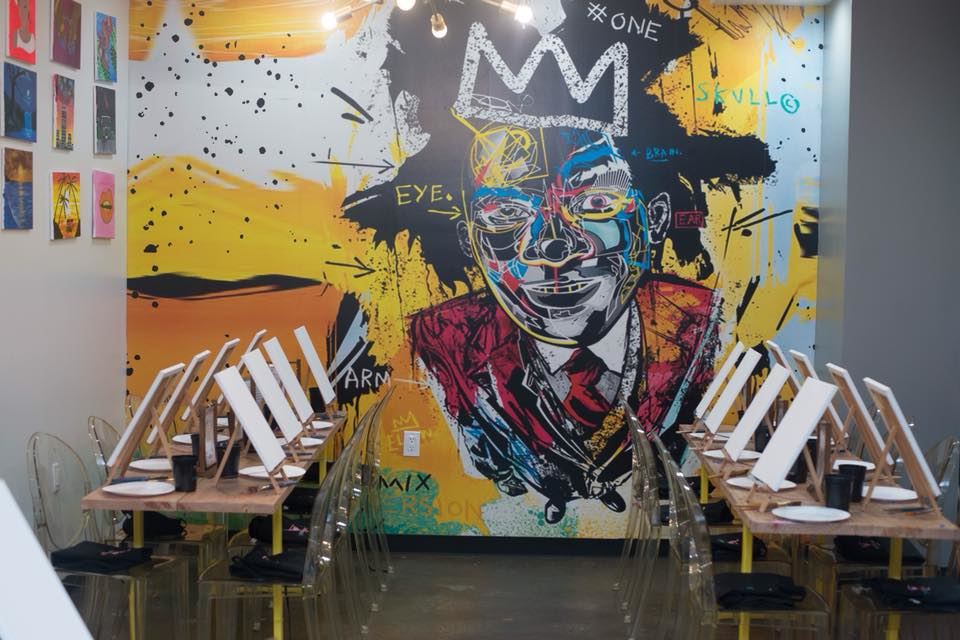 Paint N Pour has an electric-neon, colorful aesthetic that sits about a dozen people at a table for a unique painting and brunching experience.
The walls are painted with designs of people, phrases, and places, giving off a Wynwood, Miami, Florida type of look.
There are two locations, one on the Lower East Side and one in Harlem.
The electric sliders and dynamite shrimp, amongst other dishes similar to the theme. Tickets are $50 for the painting class and unlimited cocktails, but one catch: you still purchase your food.
These classes sell out quick, so plan your time and tickets accordingly!
Dates & Times:
MONDAY – WEDNESDAY 12 PM – 11 PM
THURSDAY 12 PM – 1 AM
FRIDAY 12 PM – 2 AM
SATURDAY 12 PM – 2 AM
SUNDAY 12 PM – 8 PM
Locations: 53 Delancey Street (Lower East Side), 2080 Frederick Douglass Blvd (Harlem)
Bottomless Food and Drinks Deal: Bottomless Brunch cocktails included with the ticket, but brunch foods cost extra.
Unique Entrée: Shrimp Cakes with red pepper ($13)
Catchphrase: "Paint Like Picasso. Drink like Van Gogh"
Reservations/Tickets: Can be bought online for $50 (website below)
Other Notes: You take your painting with you at the end!
It's a fantastic place to meet new people, especially if you're an artist or have an interest in the arts!
The classes hold dozens at a table, so plenty of opportunities to socialize. Tickets are fifty dollars and are sold online.
So where will you go for your next brunch? Let us know in the comments, and let us know if we missed any other great ones.